Tripawds is a user-supported community. Thank you for your support!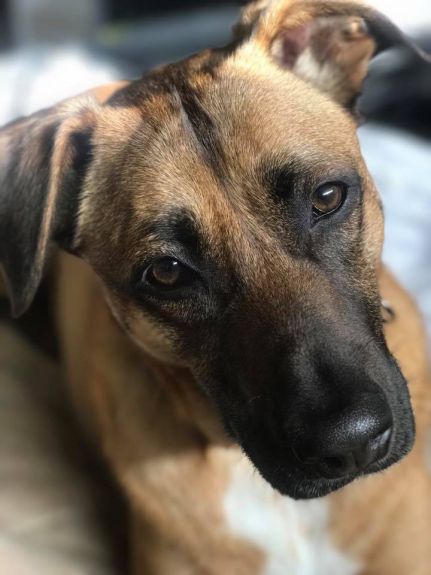 Today is all about Rico, because it's his rescueversary! 3 years ago today, Dan sent me a text mentioning that his boss had found a litter of puppies in a box on the side of the highway and was looking for foster homes. I said…quote "if you mean foster for 298487 days, then YES!!" He said "we'll see." Famous last words. We'd noticed how Roxy was a little withdrawn because Ginger never bonded to her, so they basically just co-existed. We brought her with us to pick out her new sibling when she had a sudden bout of shyness. A sweet tiny boy came over to sniff her, and then sat with her while she hid under the chair. She eventually came out from under it to play a bit, and we decided to bring the little guy home with us. He had been pretty malnourished, but would give up his food to his siblings. He bonded to us instantly, especially GINGER! She was not thrilled, as she never had a mothering instinct. Poor Rico struggled so much the first few months, but eventually settled into a routine and grew more confident. And shockingly, despite being completely annoyed by him all the time, Ginge eventually grew to actually like his attention and kisses.
Now that it's been almost a year since we moved from Puerto Rico to Alaska, Ri has definitely adapted well. He can hang out in the backyard without panicking over street noises, he LOVES snow, and enjoys the fireplace in the winter. Plus, by saving him, we became best friends with his rescuers, and eventually started working with a rescue organization and fostered more pups while we were in PR. He's our special little boy! We even celebrated today with PIZZA!